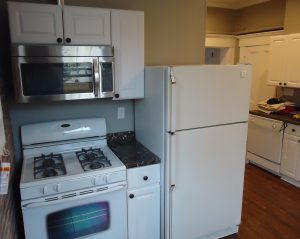 Appliance Removal Tips
Make a Plan
Getting rid of your appliances should not be done on a whim. Take the time to prepare and make a plan. Before you remove your appliance, consider where it will go, how it will be moved, and how much help you will need to move it safely. Take measurements of appliances, hallways, doorways and/or truck space to ensure it will fit. You will also need to know which regulations govern its disposal (we'll cover those laws later).
Gather Up!
Depending on the appliance, you may need to rent or buy some equipment. If you need to move an appliance up or down stairs, a stair climbing cart will come in handy. Hand carts are especially helpful for moving large items. Other useful equipment to gather up are straps (to secure item down) and drop clothes (to protect floors). If you need extra hands, don't forget to ask friends for help!
Prep the Area
Before you start moving, make a clear path to the exit. To stay safe, make sure there are no rugs, cords or debris that could seriously trip you up! Take the time to put away anything fragile in your pathway that could fall. Be aware of how your appliance will move across your flooring and along your walls.
Practice Safe Removal
Appliance disposal can be dangerous if you are not aware of safe practices, especially for large, heavy or unstable appliances. Make sure that you are not over-exerting yourself. Ask a friend(s) to help each step of the way. Make sure you are using safety-first techniques and the proper removal equipment.
Don't Mess with the Refrigerants!
Refrigerants are the heavily regulated chemicals found in household appliances. They are extremely dangerous and should not be messed with or disposed of improperly. There are government and environmental agencies that could issue fines for improper disposal of certain appliances. The EPA has a program called the Responsible Appliance Disposal (RAD) , which has some great information and resources on disposal.
Recycling Electronics the Right Way
Many states like Washington have e-Cycle, or electronic recycling facilities, that meet our growing demand for recycling electronics. Electronic products contain valuable materials that we can now recycle and these E-Cycle facilities prevent toxic chemicals from entering our landfills. Visit the EnergyStar.gov website for more info on recycling your appliances the responsible and legal way.
Donate
If your appliance had finally run out of juice, by all means, consider disposal to the right facilities. But if your appliance is still in good shape, consider donating it to a local charity or community outreach center. Many secondhand stores also accept certain appliances.
Make Things Easy: Call JunkProsWA!
Not sure if you want to do it yourself? Make life easier by calling the professionals . Our junk removal team members know how to remove different appliances and make sure they are disposed of properly–so you don't have to! Got Junk? Our services include removing household and commercial appliances like stoves, washers, refrigerators and air conditioners; in addition to general junk and debris. Let us do the heavy lifting !