Bellevue Dumpster Rental
Renting a dumpster in Bellevue has to be one of the most effective ways to dispose of a large or substantial amount of waste when you have a project to do. You could also opt for a junk service when you want the waste off your property, but don't have the time or the capability to do the heavy lifting yourself. When renting a dumpster, be sure that the Bellevue dumpster rental or junk removal service is a professional company. Junk Pro offers fast, affordable dumpster rental service in Bellevue, WA. Call us now at (425) 320-5865 to rent a dumpster in Bellevue today.
Holds 3x Pickup
Truck Loads
Holds 3x Pickup
Truck Loads
Holds 3x Pickup
Truck Loads
We Take Just About Everything
Some examples of the junk we haul away include
Refrigerator Disposal

Garbage Removal

Mattress Disposal

Foreclosure Clean Outs
Construction Waste Removal

Yard Waste Removal

Trash Removal

Appliance Removal
Television Disposal & Recycling

Furniture Removal

E-Waste Disposal

Hot Tub Disposal
Rent a Roll-off Dumpster in Bellevue
Whether you have a small garage cleanout project or a large construction project on your property, you can find the best size dumpster for it at an affordable price. You don't need to be a contractor in order to rent a roll-off dumpster in Bellevue, because there are different size dumpsters that can fit different sizes of projects. Junk Pro is committed to providing affordable and reliable dumpster rental services and junk removal services to all customers in Bellevue and the surrounding areas. Contact us today for the most affordable waste removal options.

Residential Dumpster Rentals - Regardless of whether you just want a small roll-off dumpster or a large container that can haul off tons of junk or waste, you can trust Junk Pro to deliver it. We offer affordable residential dumpster rentals for all home improvement and junk removal projects.

A wide selection of roll off dumpster sizes allows you to choose the right dumpster for your project depending on the amount of waste or the type of junk you will be disposing of when your project is completed. Junk Pro offers customers in Bellevue five roll off dumpsters sizes to choose from and they include; 10-yard dumpsters, 20-yard dumpsters, 35-yard dumpsters, 40-yard dumpsters and 50-yard dumpsters. We cover every home renovation project you can think of.

Commercial & Construction Dumpster Rentals - When you are looking for a large dumpster for a construction project or a commercial project in Bellevue, always remember that Junk Pro has the widest selection of affordable large dumpster rentals in Bellevue. We cover all construction projects, demolition projects, roofing projects, commercial cleanouts and commercial junk hauling projects. Our rental dumpsters will be delivered to your site on-time, every single time and we also offer same day dumpster service.
Bellevue Dumpster Rental Sizes
If it is your first time renting a dumpster in Bellevue, don't be overwhelmed by the number of Bellevue dumpster rental sizes available for you to choose from. If you need more information about the various roll off containers we offer, simply give us a call today and one of our representatives will be able to assist you find the right size dumpster for your project much more easily. You can however be sure that we have the right size dumpster for your project here at Junk Pro.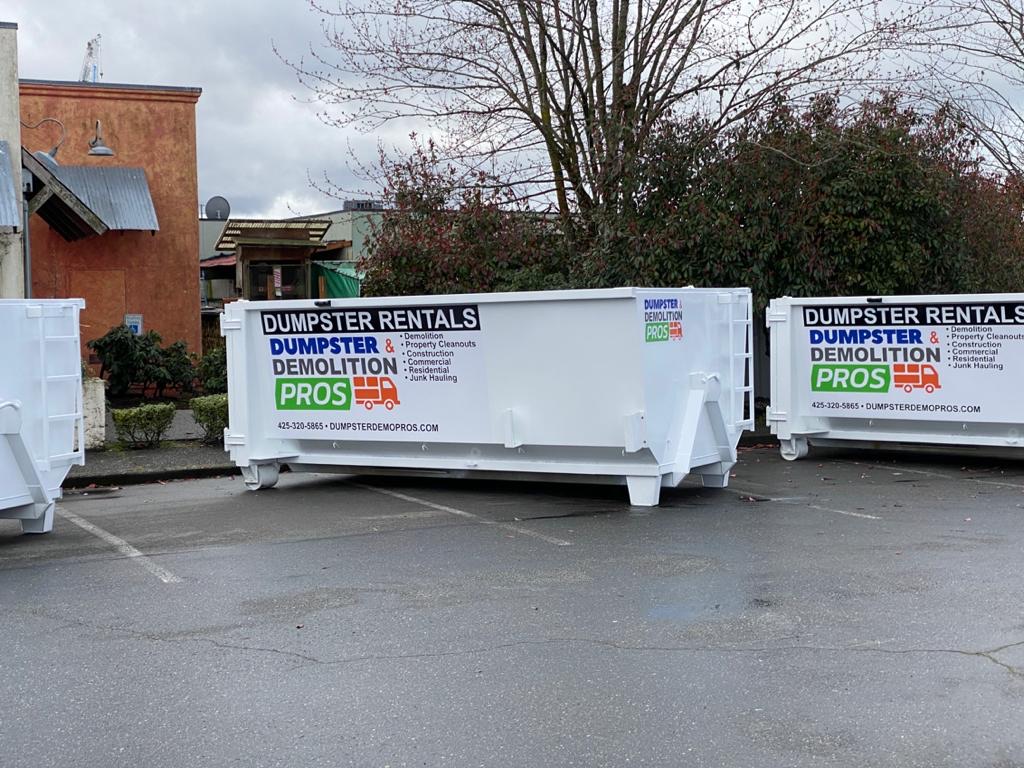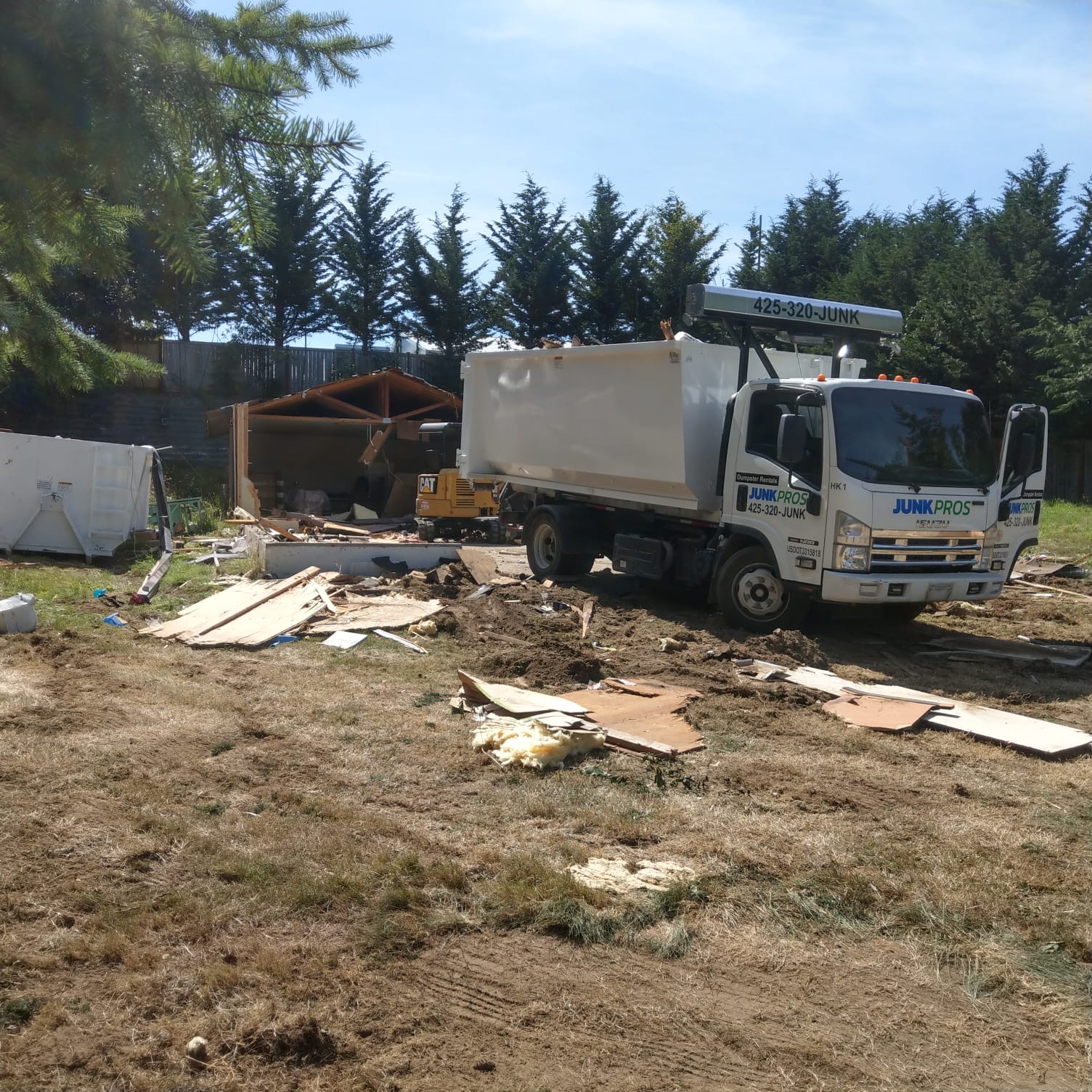 How To Rent A Dumpster in Bellevue?
For us to be able to deliver your rental dumpster, we need to know the dumpster size you need, as well as the delivery details. You can rent a dumpster in Bellevue today by giving us a call at (425) 320-5865 or using our online ordering service on our website. Both options are simple and straightforward, allowing you to book and schedule a dumpster in just a few minutes.

You may need to apply for a special permit in Bellevue before renting a dumpster and scheduling a delivery if you have no access to a private placement area on your property and your driveway does not have sufficient space. You can get a dumpster permit from the local office, and use the side of a street as a placement area.

Junk Pro offers the most reliable dumpster rentals and junk service in Bellevue!

The Bellevue Dumpster Rental Company You Can Depend On
Junk Pro is the Bellevue dumpster rental company you can depend on for reliable and affordable roll off rentals as well as affordable junk removal services. We provide all size dumpster options for commercial, construction and residential projects in Bellevue and neighboring towns. Call to find out how affordable our dumpster rentals are and how flexible our rental terms are. We also have dumpster rentals in Bothell, WA.