Did you and your buddies go hard in the yard this summer? Don't feel bad, that's what makes summer worth enjoying. But if your backyard BBQ's, birthday parties, campouts and garage sales left a hot mess in your yard or house, you need two things: these cleaning hacks and a quick call to our junk guys.
To kick off your end of summer chore list, we have searched online for some simple cleaning hacks designed to end the summer right without stressing you out.
Cleaning your grill
Dirty BBQ's suck to clean, but they are even worse the longer they sit. So don't let that sticky BBQ sauce and grease sit overnight.
Hack #1: Use an onion
As the grill is cooling down, slice an onion in half and rub over the warm grill. The scrubbing action and onion juices will break down the 'gunk' and get your grill clean without eroding the metal. Thanks, Southern Living for this eco-friendly idea.
Cushioned Outdoor Furniture
Patio furniture is often forgotten about until that first rain hits–then oh crap you forgot to put those cushions away!
Cushioned furniture is the first thing to go, even in a little of this Pacific Northwest drizzle. Where moisture meets heat births a breeding ground for mildew. Therefore…
Hack #2: Super sudsy soapy water
Combine 1-quart warm water

1 teaspoon dishwashing detergent (I live for the

ECOS Hypoallergenic Dish Soap

because its plant-based and won't dye any fabric with chemicals)

1 tablespoon borax

Mix well and scrub cushions with a bristled sponge

Let all that sudsy goodness soak for 15 minutes

Rinse with a hose and stand cushion on edge until dry
Make sure they are completely dry before storing them inside and away from exposure.
Grass Stains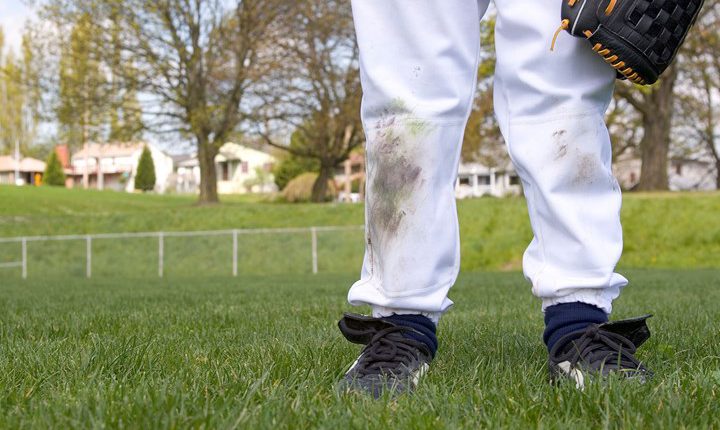 After working (or playing!) in the yard all day, removing grass stains from your clothes or shoes shouldn't have to stress you out. We have found that there's no one size fits all method to removing these stains, but according to style experts , always keep the following in mind:
Hack #3: Don't let the stain dry!
Because grass is protein and organic matter, always start by soaking in cold water

Keep the stain as wet as possible! Don't let it dry.

Follow by scrubbing the stain with a detergent solution (again,

ECOS Hypoallergic

is a good way to go)

Follow by dabbing the stain with rubbing alcohol, a teaspoon of color-safe bleach + water OR a distilled white vinegar solution

Repeat until the stain fades, then wash in cold wash cycle
Give these hacks a try to get through some of your summer cleaning. What's something you don't need a hack to get through? Getting rid of your junk.
Again, those garage sales and parties probably racked up a few piles of junk around the house. Let Junk Pros help. With a quick call to (425) 320-JUNK, our guys will haul away nearly any and all of your junk and trash the same day.
No need to worry about any heavy lifting or sorting through the rubbish. Junk Pros handles it all, hauling away your junk from right where it lies and even cleaning the area after. Call today to learn about our services. Thanks for letting our guys help you through your end of summer cleanouts.
Happy Cleaning!