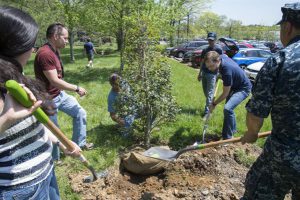 Happy National Earth Day!
It began on April 22nd, 1970, when 20 million Americans took to the street in protest for a healthy, sustainable environment. Every year since, Americans have celebrated National Earth Day in respect to maintaining clean practices, using cleaner oil, power, machinery, farming, and recycling.
A 2018 article in the New York Times figured out that while Americans represent 5% of the world's population, we generate 30% of the world's garbage, wasting nearly 1 million pounds of materials per person per year!
This is a sad fact. But luckily we as a community are taking better strides to reduce our waste footprint on our landfills.
Need a refresher course of cheap and easy ways to celebrate Earth Day? Consider these 3 things:
1: Most things we think are recyclable, still aren't
NetWaste is a great site to educate yourself on just what can and cannot be recycled. Plastic bottle caps, paper towels, frozen food boxes, grocery bags, ceramic dishes, some orange juice cartons, styrofoam and take-out containers are some surprisingly non-recyclable items we toss everyday. These items contaminate the other recyclable items and should be disposed of separately. Not sure if your items are recyclable? Check the imprint on the labels and cross-reference with a simple Google search.
Stay Aware
CD's, DVDs. batteries, cork and packing peanuts are all items that we should be recycling but probably aren't! Junk removal services like JunkProsWA has an eco-friendly mission to help reduce landfill waste. Let the professionals help separate and decide which items could, in fact, be recycled. They make sure that these items go to the right recycling plant, charity or as a last resort, to the local waste facility.
Pay attention to your stuff
One of the biggest problems with overconsumption is forgetting what we already have or if we actually need to make that purchase. National Earth Day is in the Springtime for a reason! That yearly spring cleaning can actually reduce your waste in the future. Taking inventory and "knowing your stuff" makes it less likely you'll over purchase similar items. While spring cleaning, you will naturally declutter your home of useless junk. And in the spirit of staying eco-friendly, use a green junk removal service to responsibly haul away your waste and recyclable items. It's National Earth Day approved and yes, it is just that easy. Happy Recycling!