How To Prepare For An Estate Sale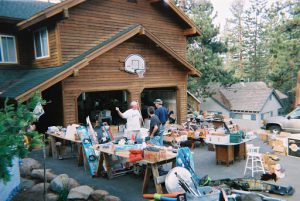 How to Prepare for An Estate Sale
DECIDE WHAT STAYS AND WHAT GOES
Start by taking a good hard look at your possessions. There will obviously be many sentimental items that you don't want to sell. It's important to remove these items immediately and store, out of sight from potential buyers. The last thing you want is to accidentally sell your keepsakes! For larger items, label it clearly as not for sale! Remember: Take your time during this step, it's worth it in the long run!
ORGANIZE & LABEL
Staying organized from the moment you decide to have an estate sale is key! Keep a notebook dedicated to dates, notes, and To-Do lists. Set a schedule for the days leading up to the sale, allowing yourself enough time to organize each room. Use brightly colored sticky notes or labels indicating what stays, what goes and the price of each item.
Pro-Tip: Jot down the name and price of the more valuable items in your notebook to keep track of them. It is also extremely helpful to make the "shopping" experience easy for shoppers by grouping like-items together in one area (ie, dishes in one area, clothing in another, and office furniture in another).
LET 'EM KNOW!
Advertise, advertise advertise! The most important part of an estate sale is making sure the people know! Don't go through all the trouble of staging a beautiful sale and only have a few buyers show up. The quickest way to advertise is online. Consider apps like EstateSales.org , VarageSale , Post My Garage Sale , or Facebook. Advertising in local print like The Stranger , hanging eye-catching flyers in the neighborhood and using other websites are also great ways to out your sale out there.
Pro-Tip: Use brightly colored flyers and directions pointing the way toward your sale.
CLEAN UP!
So you're nearing the end of your sale, and you're probably left with items you're not sure what to do with. Using the same organization tips from before, separate your items into two piles: donate and throw away. Consider the condition of these items and if they are worth donating to charity, giving away or up-cycling.
Pro-Tip: Save yourself the headache of hauling your items away and hire a junk removal service. These eco-friendly, fast and efficient junk removal services will haul away your items right where they lay. They ensure that your items go to local charities, recycling facilities or the dump if necessary. And a bonus tip: All donated items grant you a tax-deductible receipt to claim on your taxes!
Estate sales by nature are stressful enough. Start early, stay organized, and consider professional hauling services to wrap it all up.
Happy Estate Selling!