10 Yard Dumpster (rental fee only, does not include tonnage)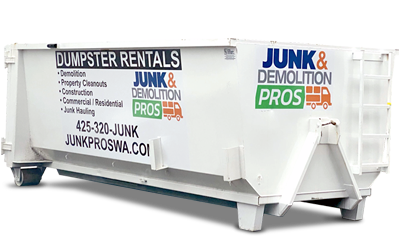 Additional charge of $169 Per Ton, depending on debris type
Size: 12' x L, 8' x W, 3' x H
Up To 7 Days, $20 Per Additional Day
Ton(s): None Included
Max weight allowed- 3 tons
Description
Key Features:
Has door on back end that can be opened for easy loading
Easy to park on drives / next to job sites
Maneuverable
Save $$ on labor
Perfect for remodeling, roofing disposal, siding and many other constructions projects
Great for construction waste or yard waste
Can be used for commercial / industrial recycling
Great for property cleanouts or tenant clean ups
Temporary garbage service for your job site or event
Max. weight capacity is 3 tons
Prices include Pick n Drop on the Eastside (Redmond, Bellevue, Kirkland) / Seattle / Mercer Island / Lynnwood / Newcastle / Duvall / Fall City / Bothell / Woodinville / Snohomish / Issaquah / Sammamish and most of the greater Eastside
$75 – $150 additional trip fee for out of area deliveries
$169/ton dump fees (mattresses and sofas subject to $27 each surcharge, appliances subject to $35 additional fee each)
no hazardous waste, no tires, no food waste, no dirt, bricks, rock, or concrete.
*PLEASE NOTE* Our trucks require at least 13' of vertical clearance in order to deliver or pickup a dumpster.
1999