20 Yard Dumpster *Winter Special* (rental fee only, does not include tonnage)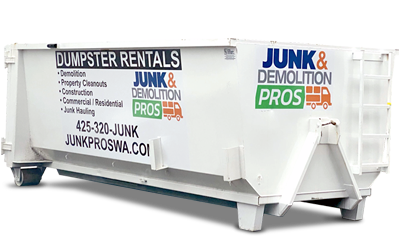 Additional charge of $179 Per Ton for standard debris, $199/ton if mixed with organics, and $45 per yard for green waste
Size: 14' x L, 8' x W, 5' x H
Up To 5 Days Residential
Up to 7 Days Commercial $20 Per Additional Day
Suitable for household junk, demo debris, or yard waste
Max weight allowed- 4 tons
Description
Key Features:
Has door on back end that can be opened for easy loading
Easy to park on drives / next to job sites
Maneuverable
Save $$ on labor
Perfect for remodeling, roofing disposal, siding and many other constructions projects
Great for construction waste or yard waste (please note that mixed loads are $199/ton)
Can be used for commercial / industrial recycling
Great for property cleanouts or tenant clean ups
Temporary garbage service for your job site or event
maximum capacity is 4 tons
Prices include Pick n Drop on the Eastside (Redmond, Bellevue, Kirkland) / Seattle / Mercer Island / Lynnwood / Newcastle / Duvall / Fall City / Bothell / Woodinville / Snohomish / Issaquah / Sammamish and most of the greater Eastside
$75 – $150 additional trip fee for out of area deliveries
$179/ton dump fees for standard debris
$199/ton dump fees for loads containing organics (yard waste)
$45/yard for green waste
(mattresses subject to $45 each surcharge, non-freon appliances subject to $35 additional fee each)
No hazardous waste, no appliances containing freon (Air conditioners, refrigerators, freezers, etc), no electronics (TVs, monitors, etc.) no dirt, bricks, rock, or concrete.
For contractors and long term rentals please contact us for pricing
*PLEASE NOTE* Our trucks require at least 13' of vertical clearance in order to deliver or pickup a dumpster.