Junk Removal Vs Dumpster Rental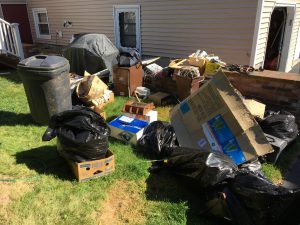 Junk Removal vs. Dumpster Rental
Considering what route to go for your junk removal? Wondering what is the difference between renting a dumpster and hiring a removal service?
Each option has its pros and cons, so it's important to consider what service is right for you.
Consider these points:
Dumpster Rental
If you find yourself willing and able to clear out the junk yourself, renting a dumpster is a good option. They range from 10 – 40 yards in size and can be rented for extended periods of time. This is helpful for the long-haul projects, where you are able to predict a large amount of junk that will pile up on your property. If you go this route, however, there are some factors to consider:
Do you need a permit to park it?
Zoning laws do not allow you to just plop a dumpster anywhere. In some areas, you might need to secure a permit before renting a dumpster.
Do you have enough space to park it without causing damage?
The weight of a fully loaded dumpster (upwards of a few tons!) can cause irreparable damage to sidewalks, pavements, yards, and driveways.
Are there weight and time restrictions you have to keep up with?
All rental companies enforce weight restrictions and impose limitations that you need to fully understand in order for it to be the most useful. Experienced folks in demolition may have the formula figured out. But most of us don't.

There is a time limit on rentals and will incur additional fees after a certain amount of time. Make sure you understand the potentials for extra costs up front.
Full-Service Junk Removal
Similar to renting a dumpster, junk removal companies like JunkProsWA can help you in clearing a whole spectrum of junk. From household clutter, old furniture, broken appliances, and yard waste to general junk from demolition/construction/remodeling debris and property move-outs.
So what's different about removal services?
ALL of the heavy lifting is done for you!
With one call and a quote, the junk removal professionals will come right to you. They will gather, load and remove the junk from right where it lays. Removal services like JunkProsWA will even do some light demolition, removing your junk in a matter of minutes or hours depending on the size of the job.

According to Fixr.com, the

National Average

for a 20-yard dumpster rental for 10 days including a street permit is $530. You can compare that to our prices here which are LESS expensive and backed by a team of fast and courteous professionals.
Got Junk?
Check out our residential, real estate, property cleaning and commercial services, see our prices and request a quote today . Consider a removal service today for your junk hauling needs.