Sell Your Stuff Online With These Recommended Apps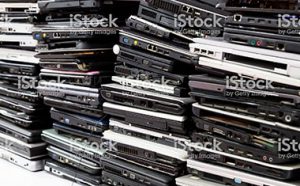 Selling your stuff with these tried and true apps
Admittedly, I do miss the nostalgia of an old school in the yard garage sale. But gone are those days and here lie the tried and true apps on any phone to buy and sell our junky treasures.
Think beyond our Father of online selling platforms–Craigslist–and consider these tried and true sites that are perfect for your local buying and selling.
#1. VarageSale
Description:

Created by a mom, VarageSale's philosophy is to make the local buying and selling experience safer and more secure. There are safety guidelines, an administrative presence and community monitoring for prohibited items and to verify buyers/sellers

Fees:

Free to use, including creating an account, buying selling and downloading the app

Best For:

Clothes, electronics, toys, gently used household items

AppEase:

Use the app to post (unlimited) photos of items. Notifications indicate if a buyer is interested in your item. Private messaging is available to discuss price and meeting location. "Reserve" function allows you to keep track of which items buyers are interested in.
#2. Vinted
Description:

This fashion-forward app allows you to sell, buy and swap secondhand clothing items and accessories for women, men and now children.

Fees:

For buyers, a protection fee of %5 of the order's cost (for a single item or a bundle), plus a fixed fee of $0.70 is incurred. There is no fee for uploading and selling your items.

Best For:

Buying and selling clothes that are in good condition. Styles are mostly from mainstream fashion but includes designer brands as well.

AppEase:

Easy if you understand your product to be sold. Using web, IOP and Android apps, you can upload photos, input descriptions, condition of the item and a short description. You can select a "willing to swap" option and use a forum to get in touch with other buyers/sellers.
#3. LetGo
Description:

Frankly, LetGo is a tech-savvy version of Craigslist; it's picture heavy interface has an appealing draw to users.

Fees:

Completely free to use and download; it does not charge any sellers fees

Best For:

Anything you're looking to sell for a few extra dollars. From household goods like dressers, bed frames, bikes, TV's, cell phones and clothes to cars, RV's, motorcycles and parts. Clothes and shoes of all sizes are also fair game here.

AppEase:

LetGo's interface is picture-heavy and users are drawn to the quality of pictures first then description second. So it is very important that your picture quality is up to the task and that you provide a variety of angles and perspectives. The vertical feed is easy to scroll and displays all items for sale in your zip code, or could be narrowed down by category with one click. A description box is available to provide as much detail about the item as possible, but the text-like messaging screen between buyers and sellers makes for buyers to ask questions to the seller.
#4: OfferUp
Best For:

Similar to LetGo in many ways, and is good for buying/selling just about anything in your home, from cars to appliances to clothes and small decorative items.

Fees:

Overall, certain items can be more profitable here because most items are sold within your zip code and paid for in cash. Fees for items shipped are dependant on the item being sold.

AppEase:

Like eBay, buyers and sellers are rated based on their positive or negative experiences. For added security, both parties can opt for additional validation through real-world ID scanning to encourage sellers to stay local with in-person transactions and to avoid shipping items without buyer approval first.