Most likely, you're here because the garage has won.
It is the official home of all things junky, the birthplace of mountainous boxes, where old toys and 90's equipment go to die.
If your garage is a cemetery of lifeless tools, recycling, supplies, donations, bikes, or perhaps an unrefurbished car or two…take a deep breath.
Deep cleaning your garage might seem overwhelming, but it doesn't have to be! Take back your garage with these few steps that we've found from organizing experts and de-cluttering gurus alike. Before you know it, you'll feel like you've won back your sacred garage space once again.
Here's how:
Step 1: Evaluate

Take a good, honest look at the size of your garage space. Get a good idea of your wall space, shelving, what storage containers you already have and which ones you may need to invest in. Don't worry too much about splurging on some elaborate storage unit just yet. Once you have cleared out most of your junk (and that is the goal here!), you may only need a few small plastic totes to keep your stuff organized.
Step #2: Take everything out

Start early, and plan to take everything out of your garage and move to the driveway or yard. Yes, this might seem like a big first step, but in order to really deep clean, you need a clear idea about everything you have. This also allows you to sweep under and behind your things, assessing for water damage, mold, dust, etc.
Step #3: Sift through the remains and make some decisions.

And now the fun part. It's time to start sorting through everything and deciding what to Keep, Donate, Sell or Throw Away. Check out our tips on Decluttering: A Mama-Approved Guide To Un-Junking Your House for some tips on how to do this. In short, you want to divide and conquer your belongings.
Ask yourself:
Will I use this again?
Have I used it recently?
Does it have significant value?
Will my life be OK if I didn't have this anymore?
The KEEP pile should include items you know you want to keep around.
If you are a sentimentalist like me, this pile will start off big. But keep in mind that sentimental items such as photos, baby's first shoes, or old yearbooks can easily be condensed to a few neatly stored boxes. You can take photos of special (but unused) items like furniture or baby bikes to keep the memory alive while freeing up your precious space.
The DONATE pile is important because we should always find ways to give back to those in need.
What's useless to us could be recycled, refurbished or repurposed by others. Clothes and shoes are always a welcomed donation to places like Goodwill and Salvation Army. While raw materials or craft supplies are always welcomed by hobbyists and DIYers.
The TOSS pile can be hard to do if you are a pack-rat.
Be honest with yourself. Do you still need that old ironing board, that 1st edition TiVo or that dusty treadmill? A Golden Rule of Thumb: if you haven't used it in 3 years, toss it. Give yourself permission to let go and create a clean and organized space.
Step #4: Get creative with storage solutions.

Depending on how much stuff you have, investing in a good garage storage unit is a good idea to keep your space organized. These can range upwards of $200-$300, but are great for large garages with some heavy-duty storage needs. Using smaller, clear plastic totes that can be stacked and labeled is a cheap way to get the job done.
Stackable plastic totes are good for:
Holiday decorations
Craft supplies
Paint supplies
Toys
Sports equipment
Hooks are good for hanging:
Bikes
Kayaks
Sports equipment
Ladders
Shovels
Rakes
Use shelves to store frequently used items like:
Toolboxes
Power tools
Boxes of screws, nails, etc.
Heaters/fans
Paint or paint supplies
Step #5: Clean, dust and weatherproof.
Now's the time to get to cleaning! Sweep the floor completely, making sure there are no oil spills or lingering debris. If the garage serves as a "hobby lobby", you might consider using an inexpensive garage floor protector like this to protect the floor from future damage. Dust the walls and corners, wiping down any dirt or marks with a soapy wet towel. Caulk any cracks in the floorboard, around windows and doors where needed.
Step #6: Re-assemble your space.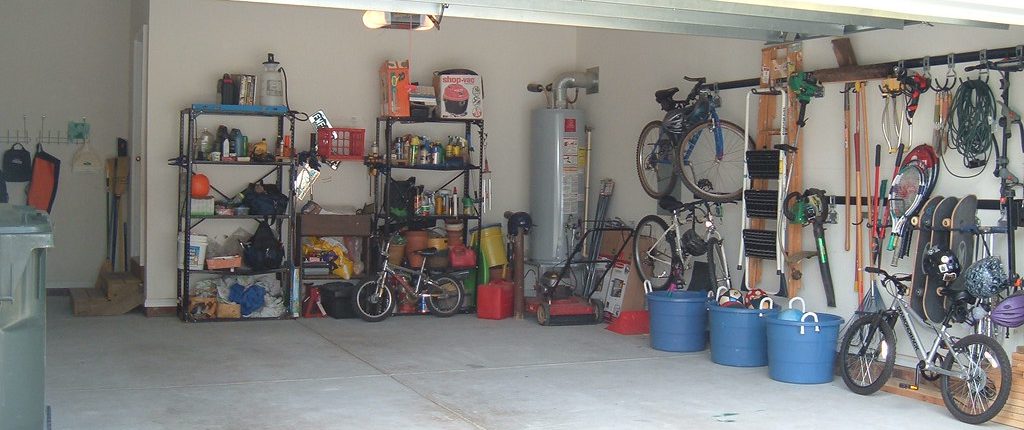 Now that everything is clean and clear, start assembling your storage units and put your belongings back. Keep your areas organized–keeping your tools with tools, toys with toys, etc. Take a second look at the items you are putting back into the garage, asking if they are still to keep, to donate or toss in some way. Otherwise, put everything in it's neat and organized place.
Then pat yourself on the back. You've taken back that garage!
Was your TOSS pile a little larger than expected? Don't let that stop you from finishing! Our guys at Junk Pros live for a good old fashioned garage clean-out. And we know that there will always be more to toss than you planned. So we're here for you and all your junk hauling needs.
And don't worry about keeping your junk neatly separated; we do our best to make sure that as many recyclable items, trash and donations all end up in their rightful facilities. Check out our fast, affordable and eco-friendly services today.