Viral #TrashTag Challenge Sweeps Communities Everywhere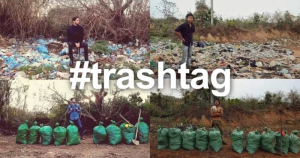 Viral #TrashTag Challenge Sweeps Communities Everywhere
A new #challenge has emerged on social media (of course), and it's sweeping the parks by strom. Literally. According to an article in Forbes , the challenge is "thought to encourage bored youth to get outside and clean up the community." The rules include taking before and after pictures, making sure to #TrashTag on your social media.
Amelia Arvesen from Snews explains how this Washington-based challenge encourage people to clean up litter on trails, parks, beaches, and city sidewalks…" to inspire others on social media to do the same. Thus the hashtag was born and spread.
This trendy, but seemingly out of nowhere challenge was heavily popularized back in 2015 by UCO Gear , a thriving outdoor gear company. The UCO ambassador Steven Reinhold felt guilty for accidentally littering while on a road-trip. He pledged to pick up 100 pieces of trash, which led into UCO Gear pledging to pick up 10,000 pieces of trash before the year's end.
Four years later, the trend has found some thread again. And by mid-March of this year, there were nearly 38,000 Instagram posts , 324,000 shares/97,000 likes on Facebook and news stories by TIME Magazine, The Hill, Forbes, CNN and CBS about the new eco-friendly trend.
If you follow the #TrashTag, you would see the thousands of challenge photos of young people cleaning up beaches, parks and sidewalks from all over the world, from Arizona to Algeria.
Some of the other must click hashtag movements for lovers of all things eco-green include:
#Recycle ; #EcoMonday ; #Cleantech ; #Ecofriendly ; #Organic movements.
If you find yourself accepting this great challenge, our professionals at JunkProsWA encourage you not to let the disposal of your trash bags stop you from participating! We will gladly collect and haul away your trash from right where it lays. Stop by here to see how we can help each other in these #GreenLiving movements.